Formed Decorative Metal
When it comes to building finishes, Specialty Construction can provide formed metal panel cladding for walls, ceilings, and partitions, or weld and polish thicker decorative metal plates that can serve both as a rigid support and a decorative, exposed finish product.
Take a look our formed decorative metals projects here.
Oakbrook Center
Oak Brook, Illinois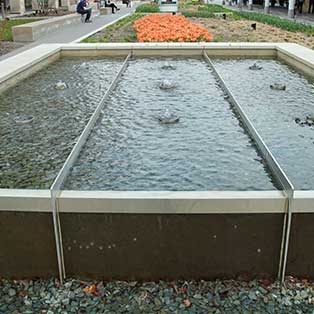 Oakbrook Center
Oak Brook, Illinois
FEATURED SERVICE
Fabricated and installed formed stainless steel dividers and rolled rings for fountains.
PROJECT HIGHLIGHTS
Outdoor Mall remodel broken in two phases; provides rolled stainless steel dividers and rings for fountains, fiberglass grating, weathered Corten steel planters, fireplace steel, and stainless steel handrails.
SEE FULL PROJECT DETAILS